A tutorial to explain how to add images into your posts.

1. Select your images
sounds obvious but i may as well start at the start. once you have decided what images you want to put here check what size they are. Please try to aviod using photos any bigger than 200k becuase it will take ages to download them. If you don't know much about image optimisation then the simplest way to reduce the size of the file is to resize it using whatever photoeditor you normally use.
2.Host your images
The images then need to be hosted on a public server somewhere. You may have some webspace that you might want to use, but the easiest way is to register here:
http://photobucket.com/
Its a free online photo album which will store your photos for you. Follow their tutorials here:
http://photobucket.com/tutorials/
and upload all the photos that you need.
3. Add the pictures to your post
Underneath each picture in your online photo album are 3 lines of links and information like this: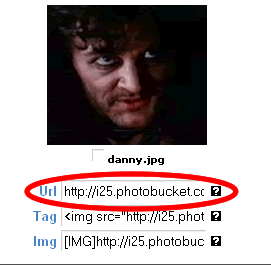 It is the URL that we are interested in. highlight all the text in this box, right click and select 'copy'.
Now, paste the URL into your post and
highlight it
so it looks like this: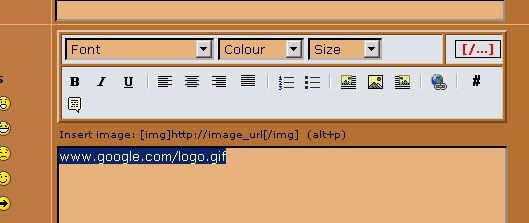 then click the image icon
and this should happen: (i have circled the image icon in red)
NOTE that the URL should have [img]at%20the%20beginning%20and[/img] at the end.
that should be it. if you have any problems, feel free to ask here or PM myself or CurlyPaul.